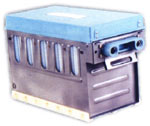 Nickel-Cadmium aircraft batteries have character of large power density,high energy density,good performance of large discharge current,low internal resistance,long service life,good mechanical intensity,wide temperature range,etc.This kind of batteries are mainly used as emergency power supply for aircraft,Our rechargeable battery packs,20GNG25,20GNG36,have been supplied for Su-27,QJ-11,TU-154,EL-76 as emergency starting,standby power supply for many years.Good performance of the productions,favorable sales service and reasonable price are approved by the users. These batteries can be also used as DC power supply for communication. Large power equipment starting and various instruments.

Storage and maintenance:
The batteries can be stored at the range of temperature from-60°C to +30°C.The service life will be shortened beyond the above mentioned temperature.The stored batteries should be in discharged condition. Frequent shallow charging/discharging,float charging may make the capacity of the batteries fall down. Through periodical charging and discharging cycles,the performance of the batteries can recover.